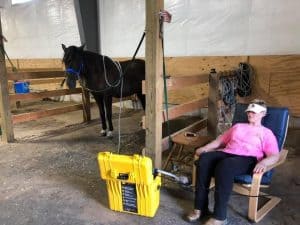 Pulse Electromagnetic Field Technology stimulates and exercises the cells to promote healing and support overall wellness.
Reduce pain and inflammation
Stimulate tissue healing
Strengthen bones
Support neurotransmitter balance
Reduce stress
Increase relaxation and sleep
Energize the natural healing process!
We offer pulse and massage therapy for horses to keep them performing at optimal level and help heal injured tissue.
Humans can use a special chair to receive the amazing benefits of pulse therapy.
Human rate: $35 for a 45 minute session
Horse pulse and massage: $75 for 1 hour